Less Bloating
More Energy
Clearer Skin
All-in-One
Regular price
Sale price
€0,00 EUR
Unit price
per
Sale
Sold out
Benefits

Our daily oral pre- and multibiotic system is specially formulated to promote and maintain balance in your gut microbiome.

Our multibiotic capsules include 20 unique bacterial strains formulated to support a balanced gut. A balanced gut supports digestive health, immunity, metabolism and mood.

Our specially formulated all-in-one prebiotic contains uniquely fermented plant fibers, digestive herbs, and multiple vitamins and minerals shown to promote daily gut health and general well being.

The all-in-one formulation replaces most of the supplements in your medicine cabinet, with Vitamins D, B12, K as well as biotin, folate, zinc, selenium, magnesium and calcium.
How It Works

The multibiotic capsules introduce high concentrations of beneficial bacteria into your digestive tract.

Designed to withstand the harsh environment of the stomach, their special coating ensures they reach the lower intestine intact. Once the multibiotics reach your small intestine they get to work digesting nutrients that your body can't on its own, ensuring the bioavailability of nutrients and producing essential compounds such as short-chain fatty acids (SCFAs).

Our all-in-one prebiotic and multibiotic can be easily integrated into your daily routine. Take the multibiotic capsules and prebiotic on an empty stomach first thing in the morning with plenty of water.

biotikur all-in-one prebiotic can also be taken mixed with plant-based milk, added to your smoothie or mixed in with yogurt at any time of day.
What Science Shows Us

The way to a balanced microbiome is to incorporate both variety and quantity of dietary fibers into your diet. biotikur balance all-in-one prebiotic does this by introducing more than 50 types of plant fiber into your daily diet.

By ensuring you're getting enough variety of plant-derived dietary fiber, you're making sure the good bacteria in your gut have enough food to sustain them. A balanced gut is essential, not only for your digestive health but also for the strength of your immune system, skin, mood, and metabolism.
Ingredients

All-in-One Prebiotic ingredients:

Our unique all-in-one formulation includes a mix of prebiotic fibers, fruits, vegetables & herbs, fermented plant fibers, and essential vitamins & minerals.

The all-in-one prebiotic is flavored exclusively with all-natural fruits, spices and herbs, with notes of fresh berries, cardamom, fennel, citrus and a hint of cinnamon.

No preservatives
No artificial flavors or sweeteners
No added sugars
No added colors or aromas

Its all-natural herbal berry tea taste is subtle and neutral - a refreshing alternative to artificially-sweetened "health" powders and shakes.

Prebiotic fibers:

Agave Inulin, Plantago Psyllium husk, Golden Flaxseed, Acacia fiber, Wheatgrass, Green banana, Potato resistant starch

Whole fruit and vegetable powders:

Cranberry, Pomegranate, Raspberry, Beetroot, Strawberry, Blueberry, Acerola, Kale, Spinach leaf, Lemon zest

Digestive herbs:

Peppermint, Ginger root, Turmeric, Cardamom, Black pepper, Ceylon cinnamon, Fennel

Vitamins and minerals:

Vitamin D, Vitamin B12, Vitamin K2, Selenium, Zinc, Calcium, Magnesium, Biotin

Fermented fruit and vegetable fibers:

Apple, carrot, mulberry, radish, pineapple, orange, lemon, beetroot, prune, plum, passionfruit, watermelon, wolfberry, grapefruit, grape, peach, acerola, cranberry, strawberry, raspberry, cherry, chokeberry, blackcurrant, gooseberry, bilberry, pear, pomegranate, banana, papaya, lychee, melon, tomato, asparagus, jujube, hawthorn, broccoli

Multibiotic capsule ingredients:

Contained in a stomach acid-resistant capsule, our multibiotic strains are freeze-dried and activate upon contact with moisture.

20 billion CFUs (colony-forming units)

Lactobacillus acidophilus, Lactiplantibacillus plantarum, Lacticaseibacillus casei, Lactobacillus crispatus, Lactobacillus gasseri, Lactobacillus delbrueckii subsp. bulgaricus, Lacticaseibacillus rhamnosus, Ligilactobacillus salivarius, Lacticaseibacillus paracasei subsp. paracasei, Limosilactobacillus reuteri, Limosilactobacillus fermentum, Lactobacillus jensenii, Bifidobacterium breve, Bifidobacterium longum, Bifidobacterium lactis, Bifidobacterium bifidum, Bifidobacterium infantis, Streptoccocus thermophilus, Lactococcus lactis, Enterococcus faecium, Bio Inulin (548 mg)
What You'll Get

The biotikur balance bundle contains a 30-day supply of the all-in-one prebiotic as well as a 30-day supply of the multibiotic capsules.

Your first subscription order comes with a free Welcome Kit (artisan glass canister, 5mL scoop for the all-in-one prebiotic and a sustainable glass jar for the capsules). Subscription orders are delivered conveniently to your door every month so you can keep your gut health gains.

One-time orders ship with a 5mL scoop only.
Share
View full details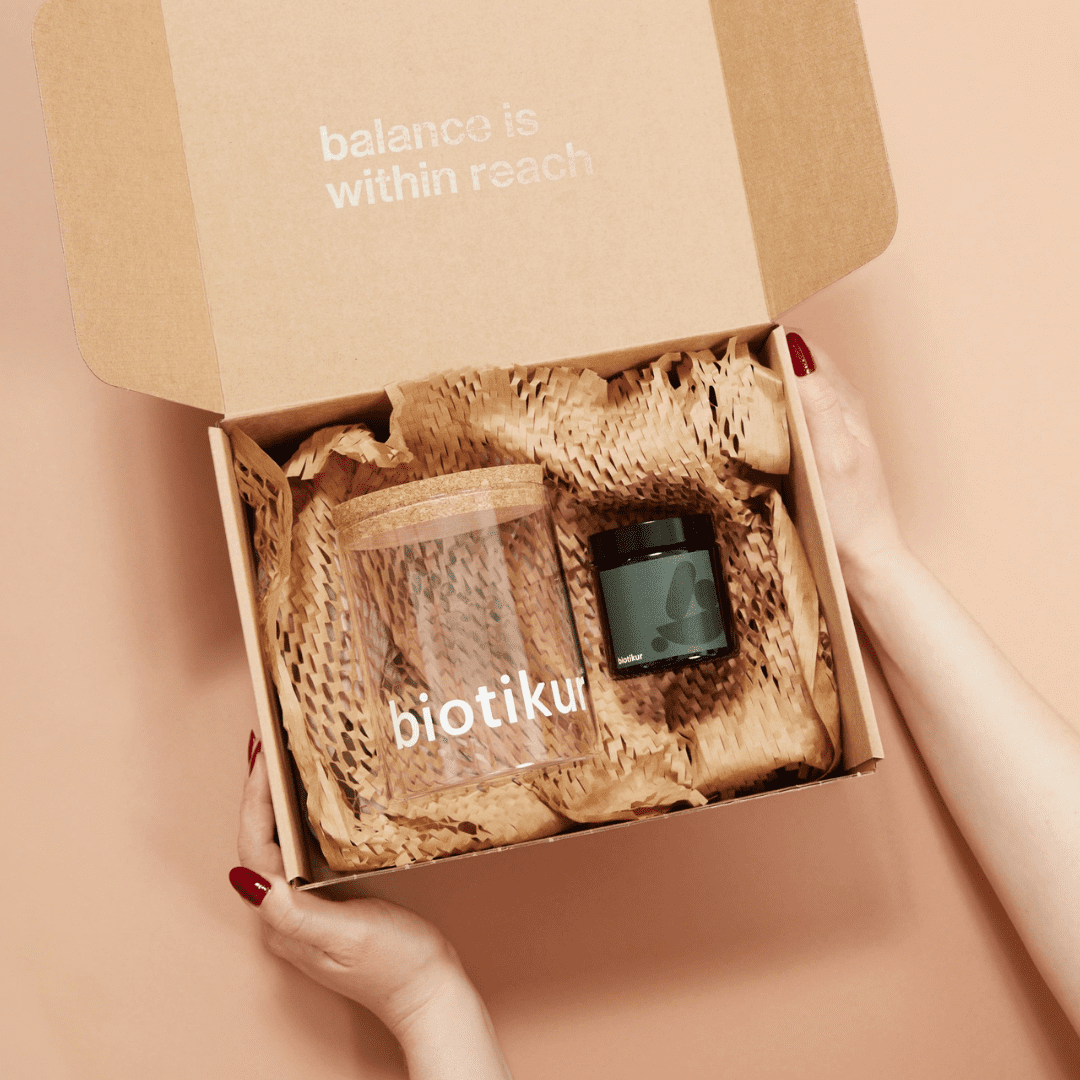 Save 24% with Subscription

60 Day Money Back Guarantee